This blog post is part of the series featuring the cool people we get to work with at Side x Side. We have many people who help us deliver great service and expertise to our clients, and we thought it was high-time to start featuring them!
Today's feature is online marketing strategist and Tacoma real estate agent Marguerite Giguere. Marguerite is a key part of Side x Side's content marketing work. Her understanding of social media, SEO (although she hates that acronym), and getting clients noticed online is incredibly valuable. She excels at authentic online communication for people and brands.
Based on her own promotional work with her real estate brand as "The Skydiving Agent," Marguerite brings a lot of expertise to Side x Side and our clients. We love the videos she produces with another Tacoma real estate agent Anne Jones, plus her other intriguing video marketing work as well (like the great profile video above).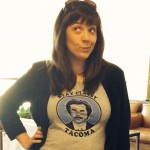 In addition to working with us and selling houses, Marguerite is a voracious reader, a strong community advocate for downtown Tacoma, a voice actor, and is fluent in Italian (and conversant in several more languages). She is also the Mayor of Pacific Grill, which is quite an accomplishment in and of itself.
All in all, Marguerite brings so much to Side x Side to help our clients get the attention they deserve.