ABOUT
Side x Side is a boutique marketing firm specializing in medium-size businesses and nonprofits. We help you get the attention you deserve. Whether you're a nonprofit looking to tell your story to donors and the community, or a business trying to make an impact with a new product, Side x Side can help.
Side x Side Creative is named for the type of working relationship we strive to have with our clients. We are quick to reply to emails, answer the phone, and discuss all the options with you. We want the process to be as rewarding as the final product.
ABOUT MARY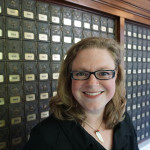 Mary Holste has been a professional graphic designer since 2000. In 2004, she founded Mary Holste Design, a successful design company with clients around the region. As the business continued to grow, she renamed the company Side x Side Creative in 2012. When she is not working on page design or an infographic, she can be found shooting short films, experimenting with type and letterpress, or studying an atlas looking for her next travel destination.