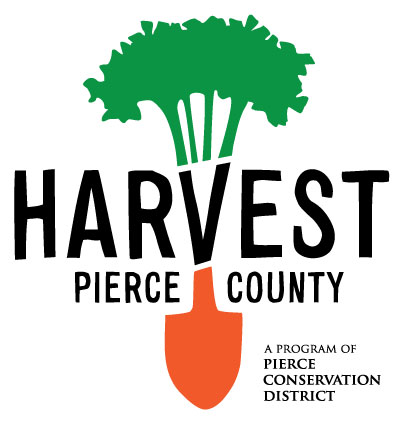 When the community gardens program of the Pierce Conservation District needed a new name and identity, they turned to Side x Side Creative.
The program had expanded beyond gardens to work with farmers and fruit trees, and it was time that they had a brand that reflected their larger mission. Working with staff, volunteers, and other community stakeholders, Side x Side helped put the vision of the community gardens team into words and images.
The final brand reflects their mission and goal: to HARVEST Pierce County. To create a community of abundance. The logo itself both reflects the work that it will take to get there (the shovel) but also the fruits of that labor (the carrot). It's a fun, eye-catching, and it reflects the spirit of HARVEST Pierce County. (To learn more about the great illustrator Side x Side partnered with to make it happen, read our blog post on Michaela Eaves.)
HARVEST Pierce County Director Kristen McIvor says:
I love our final logo and brand! I feel like it captures and communicates the best part of what we are. I really couldn't picture a brand that took all the complications of who we are and what we do and communicated it in a couple words and a picture–but Erik and Mary figured it out.
If your business or nonprofit could use a jumpstart for its identity like we did for HARVEST, please go ahead contact us and see if we could be of help to you!